Try The Crow Academy Members Lounge with all the benefits listed below for only $1.00 for the first month!
Gain instant access to
The Crow Academy Members Lounge.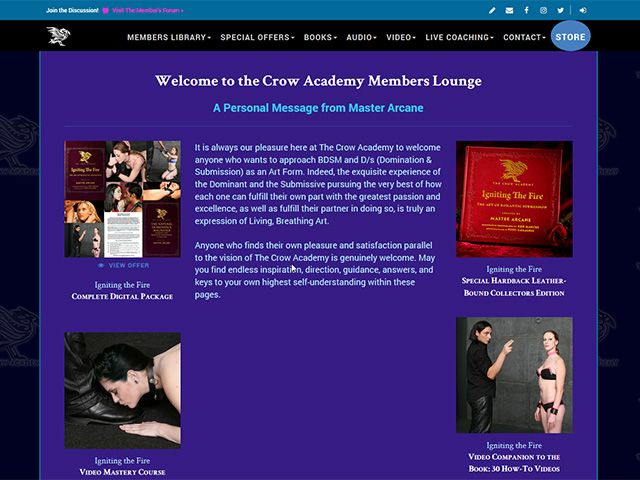 "Step Past the Velvet Rope and Join Us Inside..."
The Crow Academy Members Lounge is packed with benefits like the Members Library which is routinely updated with BDSM documents and videos at no extra charge for Members, including:
Fully downloadable documents personally created by Master Arcane to dramatically enhance your BDSM experience and inspire every aspect of your passionate play
BDSM and D/s worksheets and checklists to help both you and your partner dive deeper into your own kinky knowledge and keep your skills fine-tuned
Recordings of exclusive, private Crow Academy BDSM seminars and workshops to listen to at your leisure
The Pre-Play Checklist (don't play without checking it first!)
...and more!
Joining the Crow Academy Members Lounge
will also get you these amazing benefits as well:
Members-Only Forums (100% anonymous) to use Anytime You Want!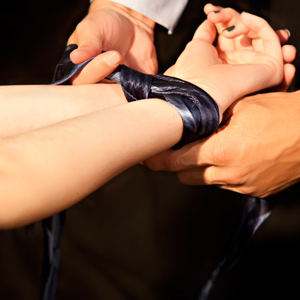 Gain instant access to a secret, online community of people just like you who are exploring BDSM as well. These incredible folks are sharing what they tried, what works, what didn't, swapping ideas, sharing naughty stories, revealing the locations of top secret BDSM play parties, and much more. Now you can meet people who are just as curious and enthusiastic about this as you are, and do it in a totally safe, anonymous way (your identity is always kept secret).
Exclusive Live Webinars directly with Master Arcane which you attend for Free!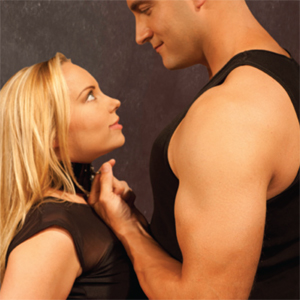 In order to learn directly from Master Arcane, you'd have to invest hundreds to attend his live seminars in Hollywood, California, not to mention the cost of travel and hotel. But now there's a new way you can learn directly from him without the expense… through his Live Webinars. It's the next best thing to being there, and the best part is that you get these trainings at no additional cost when you are a Member.
Members-Only Discounts on almost ALL Crow Academy Products!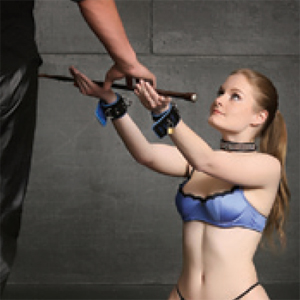 Access to The Crow Academy Members Lounge normally sells for $19.97 per month (billed monthly to your credit card as "Clickbank"), but because Master Arcane believes so strongly that you are going to LOVE the Members Lounge he is offering you the first month for Only $1! That's right… you get to try out the Member's Lounge for only One Dollar and if you don't love it and all the benefits you are finding in there you can cancel future billing at any time.
Listen To What Others Say:
"Your instruction keeps me striving to be a better Dom..."
"Arcane, thank you for so much incredible information and teaching me how to thoughtfully and intelligently be my girlfriend's Dom. Your words as a true, real world "Master" have had a profound effect on me as someone who hopes to be at your level one day. We've been trying to get better and better at this through your teachings, and we both agree that you have helped us in so many ways. Your instruction keeps me striving to be a better Dom in my own D/s relationship. Thank you again!"

– Nick S. - Age 28 - New York City
"I now understand things about my fiancée that I would have never known without your guidance."
"Master Arcane, thank you for all of your insights on where to start with my D/s experiences with my fiancée Lisa. To be honest I was really struggling with finding a jumping off point but after learning from you it was much easier to find a starting place for myself. I now understand things about my soon-to-be wife that I would have never known without your guidance. I can't even begin to tell you how happy, wild, and fulfilling our bedroom adventures are, and it's all thanks to you."

– Robert M. - Age 36 - Melbourne, Australia
"…Far exceeded what I even knew to be possible!"
"In the beginning I was afraid (and yet so excited) to explore the world of BDSM. The only advice I could piece together came from articles, forums, movies & novels like Fifty Shades of Grey. Little did I realize I was just scraping the surface. The education I gained from Master Arcane's programs far exceeded what I even knew to be possible! It gave my husband and I the confidence to really explore this whole beautiful world together."

– Kelly M. - Age 47 - Los Angeles
LIMITED TIME OFFER: During our launch phase, the purchase of ANY Crow Academy product (Ebook, Complete Digital Package, Mastery Course, Hardback, etc) will come with FREE LIFETIME MEMBERS LOUNGE ACCESS!